Practical Applications of the PPS/ PIDSP Interim Guidelines on Resumption of Out-Patient Pediatrics Clinics Post-Enhanced Community Quarantine During COVID Pandemic
Practical Applications of the PPS/ PIDSP Interim Guidelines on Resumption of Out-Patient Pediatrics Clinics Post-Enhanced Community Quarantine During COVID Pandemic
Practical Applications of the PPS/ PIDSP Interim Guidelines on Resumption of Out-Patient Pediatrics Clinics Post-Enhanced Community Quarantine During COVID Pandemic
Announcement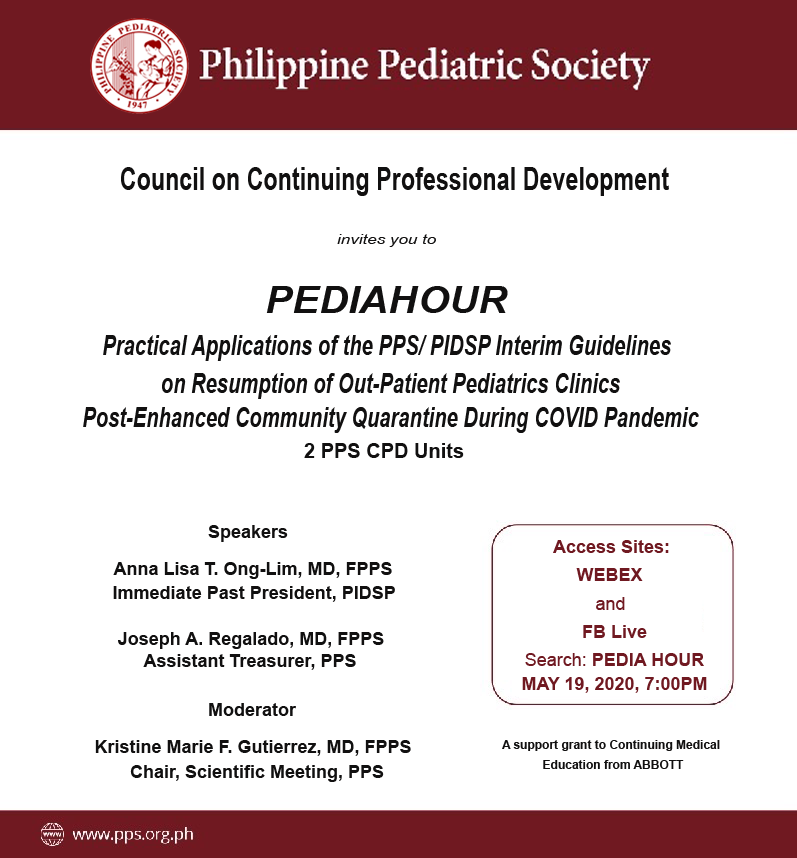 The Pedia Hour – Practical Application of the Interim Guidelines of the PPS/PIDSP on the Resumption of the Out-Patient Pedia Clinics Webinar is an official PPS event. This will start on, May 19, 2020 at 7pm and it is open to all Pediatricians and Medical Doctors. The online platforms chosen (FB Live and Webex) address issues encountered on the limit of the number of attendees, accessibility and module availability in a virtual format. The link and way to access both platforms are as follows:
1. Webex – https://myabbottmeetings.webex.com/myabbottmeetings/onstage/g.php?MTID=e27458b0c1dbb448fc1a4713d30758699
2. FB Live – searchable in Facebook as Pedia Hour
Please take note that for FB live, this will be made available for one year. There will be an equivalent 2 CPD points for this scientific meeting.
Download: WebEx Guide using the Computer
Download: WebEx Guide iOS
Download: WebEx Guide Android
Download: WebEx Guide Cisco WebEx Application