October 6, 2020

0 Comments
North Central Mindanao Chapter
History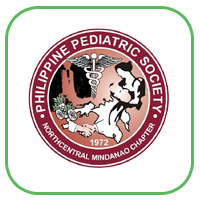 Cagayan de Misamis was the capital town of the province of Misamis Oriental and renamed Cagayan de Oro City when it became a chartered city in 1951. Progress and urbanization slowly crept in along with the growing population of infants and children. Naturally, where the children are, the pediatricians are not far behind. Thus, in 1968, eight (8) pediatricians and general practitioners informally formed the Cagayan de Oro – Misamis Oriental Chapter of the Philippine Pediatric Society. Dr. Carmelita Belmonte Cuyugan, President of the PPS National from 1969 to 1972, inducted the Magnificent 8 namely: Dr. Pedro Abalos as President and Drs. Grace Salvador, Renee Lazo, Megdonio Bacal, Zenaida Floirendo, Esperanza Herrin, Luis Borja and Hernando Mejia members at the Old Steak House in 1969.
Dr. Grace Salvador, President in 1970, worked for the membership to be formalized by PPS and to include Lanao, Agusan, Surigao and Bukidnon pediatricians but this was further expanded by PPS to include Misamis Occidental and Zamboanga. Hence we were officially recognized as the North Western Central Mindanao Chapter on March 18, 1972 with Dr. Pedro Abalos as the first president.
New blood was infused into the Chapter with the arrival of Drs. Dimpna Torrevillas, Lucille Romblon, Pacita Kho, Simeon Francisco and Maria Paz Serin?a who took turns becoming president. Their usual activities in the 1st decade were Well Baby Contests, Free Clinics, Scientific Meetings, and radio program guestings. Unfortunately, the Chapter went into hibernation in 1980; fortunately it was reborn into the present PPS North Central Mindanao Chapter (PPS-NCMC) thru the indefatigable efforts of the original "come-back-kid" Dr. Pedro Abalos in 1981. This time the Chapter entered its 2nd decade with members from Misamis Oriental, Misamis Occidental, Bukidnon, Agusan, Surigao, and parts of Zamboanga and Lanao.
From 1981 to the present, the PPS – NCMC has been driven! Modules conducted in the 80's were REYSENET; the Astra Circuit Course; URBANET which became GOBI for growth monitoring, oral rehydration, breastfeeding and immunization; CDD which morphed into CARI and now IMCI.
The 90's (3rd decade) introduced Postgraduate Courses and Workshops on Community Health Development, Registry of Diseases, EBM (Evidence Based Medicine), UMED, Unintentional Childhood Injury Prevention, PALS, NALS which became NRP in the new millennium, Kangaroo Care and Childhood Handicaps and Disabilities which led us to a new advocacy in 1994. This was when we cajoled Mayor Pablo Magtajas to open East City Central School in Cagayan de Oro to 11 special children with cerebral palsy, autism, mental disabilities; sent teacher Ellen Villanueva to a crash course on teaching autism at Cabriva in Laguna and holding annually for 3 years consultations with Drs. Alexis Reyes, Menchie Padilla, Marilyn Ortiz and therapeutic sessions with people from the Allied Medicine and Special Education Center of UP. Not soon after, the Newborn Screening Program became a major project with NMMC (Northern Mindanao Medical Center) as the nerve center and eventually institutionalized in all hospitals of the region.
In 1995 most members in CDO and Iligan became involved in the Accredited Pediatric Residency Training Program (APRTP) of NMMC and Mindanao Sanitarium Hospital (MSH) now AMCI (Adventist Medical Center Iligan). A Northcentral Mindanao Integrated Pediatric Residency Training Program (NCM – IPTRTP) was formed with a MOA in 1998 between NMMC and MSH as regular members while Maria Reyna Hospital now Maria Reyna Xavier University Hospital (MRXUH) and Gregorio T. Lluch Memorial Hospital were observers. Joint CPCs, modules, case presentations were started, up to the present, and in 1999 MRXUH was accredited as the 3rd training institution in the Chapter. On February 15, 2004 the 1st PPS-NCMC's Inter-hospital Residents' Case Report and Research Paper Contest was held at Kagay-anon Restaurant so that residents will have a venue to present their required scientific papers prior to taking the diplomate examinations. Other activities developed and supported by the Chapter include the annual OSCE (Objective Structured Clinical Exam) in 2014 and the National WISE Exam at NMMC in 2013 .
Hard work paid off when NMMC was accredited Level II in 2012 and Level III in 2015 (the 1st one outside Metro Manila then); and MRXUH Level II in 2018. Outstanding community activities of the 2 hospitals were the adoption by NMMC of WCCS's Special Children since 2009 and MRXUH's "Breastfeeding Friendly Hospital of the Year" award by PPS for its extraordinary support of mothers and their breastfeeding babies. Amai Pakpak Medical Center's PRTP was the 4th one in the Chapter on March 1, 2019 expected to bring more quality service to its constituents in the region.
On April 25, 1999 we received the "Outstanding Chapter Award for Community Service" for "community efforts to alleviate immediately the hunger and medical needs of Barangays in Cotabato, its implementation of PPS' Community and Advocacy Programs, its cooperation with the PNRC Disaster Preparedness Program and linkages with various hospitals and crisis centers in the region." Dr. Patricia V. Gaid received the 2014 "Most Outstanding Pediatrician Award in Community Service" (Dr. Fe Del Mundo Award) and became a plenary Speaker of the 4th Dr. Fe Del Mundo Memorial Lecture on "Planning Health Programs in Community Pediatrics " at the 52nd PPS Annual Convention in 2015 .
Dr. Jonna Dalida – Dalaguit , Chief of Camp Evangelista Station Hospital in CDO was named among the TOPS (The Outstanding Philippine Soldiers) for 2015 by the Metrobank Foundation, Inc. and the Rotary Club of Makati Metro for her exemplary performance as flight surgeon and pediatrician seeking quality care for the patients and involvement in healthcare advocacies including HIV awareness .
As part of the PPS' 65 years Diamond Celebration, we were granted a PPS Scholar for Mindanao in 2013, Lovely Grace Camacho, from Bukidnon and who finished BS Nutrition and Dietetics at Central Mindanao University (CMU) . Her "Health Break Station" project was approved and funded by PPS; finished her course with flying colors at CMU and passed her boards on August 23, 2017. This daughter of a multi-cab driver and who had to walk 10 km back and forth to CMU daily for her classes for 5 years is now employed at DOH Caraga as a nutritionist. Inspiring , to say the least !
The Chapter's newsletter "Babytalk" to update members of its activities , projects and concerns debuted on October 1999 and circulated until such time when our website, ppsncmc.org opened in 2010, now replaced by the more popular social media giants FB, Instagram, messenger, Viber, twitter and lately Zoom for webinars in this pandemia 2020.
It was in 2004 when our Chapter Logo flew in a banner which featured a handshake representing the friendliness of the people of North Central Mindanao (CdO is the City of Golden Friendship); the pineapples of Bukidnon; the waterfalls of Iligan and neighboring provinces and cities; the colors white for purity and cleanliness and maroon for passion and integrity.
Disasters are mostly natural; but can be man-made, too . In the June 2020 issue of Babytalk, the "Children of the Angry Hills" or the Children of War from Misamis Oriental, Cotabato, Maguindanao, Lanao, Basilian and Jolo were featured and the Chapter's answer was "Kalusugan Batang Mindanao" or "Kaba Na-Min" launched on September 10, 2000 at Linamon, Lanao Del Norte to alleviate the miserable conditions of these children by providing them primary health care, nutritional intervention programs and psychological support with the help of the LGUs, DOH, 402nd Infantry Division, NGOs and some funding from PPS National. In 2001 Typhoon Nanang hit Camiguin and some members helped in relief efforts … a preview to the catastrophic Cyclone Sendong, 10 years later, when the Chapter's dedication to public service was tried and tested . It hit CdO, Iligan and Bukidnon the heaviest on December 16, 2011 and for a month we worked with the DOH under the Health Incident Management Team (Medical Cluster) in the performance of their daily relief efforts and thus had a crash course on disaster management ; adopted evacuation centers like WCCS in Carmen, CdO, the UCCP and Barangay Consolacion Centers in CdO; colleagues in Iligan made available several deep wells to answer the need for clean potable water supply; and turned over a house at Opol, Misamis Oriental in a village for Sendong survivors coursed thru the priests of the Sacred Heart – out of the monetary donations from PPS and other Chapters and local members. We again made our presence felt in the aftermath of Typhoon Yolanda by sending a Multidisciplinary Team of Doctors that included pediatricians to Palompon , Leyte from November 16 to December 15, 2013 . A breastmilk drive with mothers of CdO, Iligan, Camiguin and Oroquieta made available mothers' milk sent to PGH Human Milk bank for pasteurization and delivered by the military to the babies in Yolanda evacuation centers .
Then we had the Marawi Seige , a 5-month armed conflict from May to October 2017 which turned Marawi City into a war zone between the Philippine military and militant Mautes allied with the terrorist ISIS organization . Lives were lost and properties irreparably damaged, displaced persons evacuated and sought refuge in Iligan and CdO for which Martial Law was declared. The Chapter buckled down to work in the provision of relief goods for both our Muslim and Christian brothers and sisters and the worn-out exhausted weary military personnel from the long drawn-out war; stressed debriefing sessions conducted with the help of psychologists from MSU in Iligan ; and financial assistance given to 8 members from Marawi .
Amidst all these we continued with our child advocacies for the promotion of the "Care of the Filipino Child" with activities on Tobacco Control, Disaster Preparedness, Dengue Awareness, Child Cancer Awareness, Immunizations, LMET (Lactation Management Educational and Training) and LMO (Lactation Management Orientation), Neonatal Resuscitation for which we had a Training of Trainors last July 22 – 24 , 2019 which now boasts of 26 more Trainors to help the 7 neonatologists of the Chapter , Breastfeeding and the First 1000 days, KMC in the Care for Small Babies, Social Media Addiction and our latest passion Mental Health and Teenage Pregnancy. We have trained 39 members as Psychological First Aiders from September 2 – 4, 2019 and conducted 4 Teenspired runs in CDO and Bukidnon involving 10 lecturers and 22 facilitators from the Chapter; reached out to 158 teens, 140 parent and guardians and partnered with the CDO LGU, DepEd, DOH and POPCOM .
Of course we work hard and play hard too … so we prepare and look forward to the performances during the PPS Annual Convention; memorable of which was singing "Mamayug Akun" in our colorful Muslim finery for the PPS' 50th Anniversary at the Cultural Center of the Philippines .
Thru these 5 decades we are thankful having celebrated our 25th anniversary at Pryce Hotel, our 30th at Marco Hotel with Dr. Carmelo Alfiler as special guest and our 40th at N Hotel with Dr. Genesis Rivera. From a mere 8 lovers of children we have ballooned to 253 : 77 fellows, 173 diplomates, 3 active members and 50 subspecialists!
We look forward to more challenges and meaningful accomplishments ahead, a much wider circle of friends and colleagues to celebrate our 50th on March 2022, sans the presence of the infamous SARS-CoV-2. Blessings to all !